2/22/17

Just Plain Folks - a grass-roots music organization that hosts the world's largest independent music awards has nominated Zip Tang in 4 categories!
"After 18 months of screening the 17,400 Albums and 240K songs our judges have chosen nominees for both Albums and Songs in over 70 genres of music." :
Hard Rock - 'Exit 94' from Private Shangri-La
Metal - 'Thorazine Drip' from Das Reboot
Instrumental - 'Spooky Jam' from Feed our Heads
Hard Rock Album - Private Shangri-La
2/12/17
We've been busy at ZiTi Studio for the last several months writing and developing a bunch of new stuff for our first concept album.



7/5/16
Reggies is proud to announce Progtoberfest II October 21-23, 2016 with 25+ bands playing this year.

Our main headliners include the reunion of legendary Jazz/Fusion band Brand X (Percy Jones, John Goodsall, & Kenwood Dennard), The Security Project (former members of King Crimson & Peter Gabriel's Band), iNow Trio (Patrick Moraz (Yes), Bunny Brunel (Chick Corea), and Virgil Donati (Planet X)), The Fringe (Nick D'Virgilio (Spock's Beard & Tears For Fears), Randy McStine (Sound of Contact), and Jonas Reingold (The Flower Kings)), and Carl Palmer's ELP Legacy - Remembering Keith and the Music of Emerson, Lake & Palmer as well as a tribute to the legendary Keith Emerson featuring acclaimed Chicago ELP tribute Fanfare, Jonathan Schang of District 97, Mike Keneally, and other guests.

Zip Tang opens the festivities on Friday Oct.21st,

3 Day Passes, Single Day, and VIP Ticket Options Available
VIP Ticket includes admission to Progtoberfest, Meet & Greet with bands, Poster, and BBQ Buffet.
Brand X
Carl Palmer's ELP Legacy
The Security Project
iNow Trio
The Fringe
Tribute to Keith Emerson with Mike Keneally, Fanfare, & friends
Mike Keneally and Beer for Dolphins
The Reign of Kindo
Rikard Sjöblom
District 97
Mörglbl
The BAMBIR
The Explorers Club
Corima
The Galactic Cowboy Orchestra
Metaphonia
Infinite Spectrum
IZZ
Sonus Umbra
Pavlov3
Mano
Zip Tang
Fibonacci Sequence
General Zod

http://www.reggieslive.com/showtag/progtoberfest-ii/
TICKETS ON SALE NOW!!!
https://www.ticketfly.com/purchase/event/1228021


2/8/16

12/18/15
TRIPLE CD RELEASE PARTY
Saturday, January 9, 2016 - 8:00 PM at Wire -
6815 Roosevelt Rd, Berwyn, Illinois

We will be performing our new album "Private Shangri-La" in its entirety with our good friends, headliner Sonus Umbra - featuring their new album "Beyond the Panopticon", and Might Could - "The N.E.S.F.A.N. Trilogy" opening the show.

Wire is an exciting new venue with a large stage, great lighting, excellent sound system, and a fantastic beer menu! We look forward to rocking this joint with you and some spectacular musicians!


21+ $15 Doors @ 7:00 PM

Tickets Available @ www.ticketweb.com

8/28/15
Private Shangri-La available now on
iTunes & Google Play

8/15/15
IT'S HERE! PRIVATE SHANGRI-LA
AVAILABLE NOW AT CD BABY
album info and lyrics here


3/10/15
ZT v2.0 Album #5 Coming 2015

7/13/14
New Show Date:
PROGTOBERFEST Oct. 25th-26th at Reggie's
with Spock's Beard, Stick Men feat. Tony Levin, Tu feat. Trey Gunn and Pat Mastelotto, and many more great bands!


6/21/14

After nearly a dozen years as a quartet, Zip Tang is now a trio. We want to express our best wishes to Marcus Padgett and our gratitude for 12 great years together as an integral part of Zip Tang. We wish him all the best on the next phase of his musical journey.

Zip Tang 2.0 will live on and we are very excited about the new material the three of us have been working on for the last several months, and the somewhat new direction the music has taken.


11/19/13

DECEMBER 22nd - ZIP TANG at DOUBLE DOOR
with District 97 and Might Could
Doors at 7:30 pm show at 8:00 pm
Tickets


6/21/13


5/1/13
DAS REBOOT Available Now
at iTunes, Rhpasody and CD Baby!
1/6/12
Album #4 is nearing completion friends. Stay tuned here or on our Facebook page for updates and release date.


7/7/12

3/16/11
"Feed Our Heads" CD Release Show!
Also with two great, sonically and visually stimulating original bands -
Von Frickle - featuring mind bending music from their 9th album, and
District 97 - with 2007 American Idol Top 10 Female Finalist, Leslie Hunt on lead vocals!

Friday, April 8th @ The Abbey, 3420 W. Grace, Chicago, IL
8:00 PM, $8 ADVANCE, $10 at the door
w/ Karlye Lapetina at 8:30, followed by Zip Tang / Von Frickle / District 97

2/3/11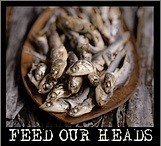 NEW REVIEWS OF FEED OUR HEADS
---
"Original, fresh and downright entertaining approach to modern progressive music" Dutch Progressive Rock Page

"I Really Love This Album" Gibraltar Encyclopedia Of Progressive Rock

"Inspiration Beyond Measure" by Suze Merlin - Progressive Area, France
"Original, Fresh and Worth Listening To" (loosely translated from German)
Babyblaue-Seiten - The German Prog Encyclopedia (original German text)

11/22/10
"FOH" is available now at iTunes .

11/17/10
IT'S HERE! "FEED OUR HEADS" is now available
to buy or download at CD Baby! Coming soon to iTunes.



10/31/09
Hard to believe we released PANK over a year ago and reviews still coming from around the world. New reviews from Norway, Brazil, New Zealand and Germany.



9/1/09

Zip Tang takes 4th place for Prog Rock Album and 6th for Prog Song "Footprints" at the JPF Awards. We had a blast playing at BB KIng's on Friday and the Awards Show Saturday was phenomenal! See all the winners and finalists here:
2009 Album Winners: Top 4 Albums in All Genres
2009 Song Winners: Top 6 Songs in All Genres

8/27/09
Zip Tang has been selected to play at the JPF Pre Awards Nominee Showcase at BB Kings Nashville Aug. 28th.


6/28/09
JPF reports that their 8000 volunteer judges screened over 42,000 CD's and 560,000 songs to reach these final results in 80 categories. Check it out! The final voting is next and the Awards will be announced August 29 in Nashville!

We'd like to thank the judges that voted for us and wish good luck to the other nominees. Maybe we'll see some of you in Nashville.



1/27/09
Pank reaches #29 of the top 100 albums of the year for 2008 in Germany's Eclipsed Rock Magazine. We're honored to be included with these great international bands and artists. We haven't heard of a few of them either, but Google 'em and check them out like we did. Lots o' good stuff...

Here are the top 50:
1. Rose Kemp - Unholy Majesty
2. Portishead - Third
3. Colour Haze - All
4. Opeth - Watershed
5. Stephen Malkmus - Real Emotional Trash
6. Lunatic Soul - s / t
7. Pendragon - Pure
8. Fleet Foxes - s / t
9. The Mars Volta - The Bedlam In Goliath
10. Marillion - Happiness Is The Road
11. RPWL - The RPWL Experience
12. Xavier Rudd - Dark Shadows Of Blue
13. Simon Says - Tardigrade
14. Black Mountain - In The Future
15. Astrid Swan - Spartan Picnic
16. Karmakanic - Who's The Boss In The Factory
17. Matthew Parmenter - Horror Express
18. The Hold Steady - Stay Positive
19. Seveen Steps To The Green Door - Step In 2 My World
20. The Black Angels - Directions To See A Light
21. Tribe After Tribe - MOAB Stories From Deuteronomy
22. Siena Root - Far From The Sun
23. No-Man - School Yard Ghosts
24. Lambchop - (OH) Ohio
25. Guapo - Exilirs
26. Caspian - The Four Trees
27. Brian Jonestown Massacre - My Bloody Underground
28. The Season Standard - Squeeze Me Ahead Of Line
29. Zip Tang - Pank
30. Uriah Heep - Walk The Sleeper
31. Motorpsycho - Little Lucid Moments
32. Madrugada - s / t
33. Van Der Graaf Generator - Trisector
34. Steve Winwood - Nine Lives
35. Joe Jackson - Rain
36. The Cure - 4:13 Dream
37. Seven That Spells - Black Om Rising
38. Whitesnake - Good To Be Bad
39. Sigur Rós - međ Suđ I Eyrum viđ Spilum Endalaust
40. Walter Trout - The Outsider
41. Mogwai - The Hawk Is Howling
42. The Pineapple Thief - Tightly Unwound
43. AC/DC - Black Ice
44. Nick Cave & The Bad Seeds - Dig! Lazarus, Dig!!! Lazarus, Dig!
45. Shamall - Questions of Life
46. Slut - StillNo1
47. Portugal. The Man - Censored Colors
48. Diagonal - s / t
49. Coldplay - Viva La Vida
50. Joan As Police Woman - To Survive




10/20/98
PANK CD Release Party at Martyrs' Nov. 20th at 9:00pm, door at 8:30.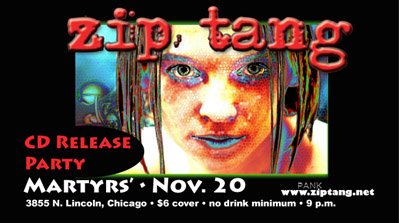 7/30/08
YouTube Video
Zip Tang & The Hush Sound - "Hourglass" @ House Of Blues

6/18/08
ZT + THS = CGMP / VSOP
Attention all Zip Tang fans! As you may know, our drummer's son plays bass for The Hush Sound. On July 20, in the midst of their "Dance Across the Country" tour, THS will be headlining at The House of Blues. In a daring display of Cross Generational Musical Pollination, Zip Tang will perform a short opening set with a little help from their young friends. This is a Very Special Onetime Performance that must be seen to be believed. Tickets are available at The House of Blues. Don't be alarmed that ZT does not appear on the marquis – we'll be there. It's a secret show for our special fans!
The last time THS headlined at the House of Blues it sold out so get your tickets NOW!